The fat one, the other one and the Englishman ... less wants more...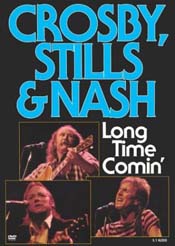 This is essentially a greatest hits collection put together from rare footage, TV appearances, recording sessions, interviews and tributes from the likes of Joni Mitchell.
It includes all that you might expect Long Time Gone, Marrakesh Express,Woodstock plus formative appearances - The Byrdís Mr Tambourine Man, The Holliesí Carrie Ann, and Buffalo Springfieldís For What Itís Worth.
In effect itís a scrapbook, including the Neil Young period represented by You Donít Have To Cry and Down By The River. And make no mistake thereís some real quality material on display here. But all it succeeds in doing is in making you want to hear more.
The problem is that the quality control is patchy and the editing dubious. OK, archive and rare footage is always going to be of variable quality but the live footage of Dark Star, for example, rocks. As does Just A Song Before I Go and a 1982 version of Wooden Ships. But there just isnít enough of it.
When you realise that 22 tracks have been squeezed into just 56 minutes, you begin to realise why none have been done complete justice. And no extras. Now thatís what I call a rip off.
***
Review by Pete Whalley