CROSBY STILLS& NASH Reissues (Atlantic,Rhino 2006)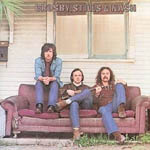 This country rock trio were formed in 1969, with David Crosby a former Byrd, Stephen Stills ex Buffalo Springfield and Graham Nash ex The Hollies. The band were augmented by drummer Dallas Taylor.
Released the same year, their eponymous debut (Atlantic / Rhino R2-73290) is a pleasant affair that won a Grammy, featuring some neat vocal harmonies, and the acoustic work quite intricate.
'Marrakesh Express' mixes a touch of Nashville country with a whimsical pop melody.
The album drifts along nicely in an almost progressive folk way, especially 'Guinnevere'.
Hardly classic rock but enjoyable end well executed for its genre. ***
1982 and Daylight Shines Again (Atlantic / Rhino R2-73295) was only their third studio album (they'd recorded as a quartet, with Neil Young, in that time).
This is a far better album than the debut, because the song writing is just as good, just as whimsical, and in places just as good country rock, but the full band sound (a host of guest musicians include Toto's drummer Jeff Pocaro) is more electronic, solid and, being less acoustic, doesn't drift anywhere so much.
Without bowing to new wave or MTV, there's some decent tunes here, no matter how stoned they were. Well worth checking out. Both albums come with bonus tracks and comprehensive sleevenotes too. ***½
Review by Joe Geesin