Definitive Cream story with bonus CD...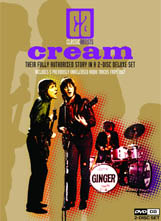 2005 was a landmark year for Cream fans, when their heroes reformed for a series of Albert Hall gigs and renewed interest spawned books, column inches, and new best of compilations.
No doubt, most will have bagged the Albert Hall DVD released in late-2005, and they may well wonder why they need to shell out for the latest spin-off, this 2-Disc deluxe retrospective.
Well, it's shell-out time again. This latest instalment, fully authorised by the band members and management, not only delivers fascinating documentary/archive footage but a CD of previously unreleased Swedish radio sessions.
Add in to the mix a 20-page booklet and Cream fans will be in seventh heaven, if not their local bank - extracting the necessary.
The Cream story is, of course, well-known. They were arguably the first supergroup who paved the way for stadium rock. As with many bands, constant touring placed strains on personal relationships and creativity.
The story still makes for compulsive viewing especially when the band members and other key associates give their own honest take in recent interviews. The late Ahmet Ertegun emerges as a hero who, as head of Atlantic Records, initially steered the band but allowed Felix Cavaliere to hold the reins, whilst Robert Stigwood is castigated as a villain of the piece.
There's an amusing section, where Ginger Baker complains that Jack Bruce was always cranking up his amps, and there's even an interview with Jim Marshall as if pointing the finger in his direction.
But, thirty odd years later, nothing much changes as we learn that things go awry after the first Madison Square Garden gig when Baker is complaining of much the same problem. Thankfully, the soundmen intervened and built a perspex screen around the drummer to muffle Bruce's bass which saved the next two shows.
The footage of Baker, looking slightly the worse for wear after the first U.S. reunion gig, is perhaps the only low point in an otherwise fairly upbeat resume. It's Baker who wonders whether the US reunion gigs were a good idea, although the $10m. dollars from ticket sales must have helped his pension plan.
And whilst there is an obvious love-hate thing going on between Ginger and Jack, Eric doesn't rule out the prospect of another collaboration in the future.
The extras, including alternative interviews with the band and associates, archive concert footage, and a gallery and memorabilia section, round off a really excellent package.
****½
Review by David Randall