CRAWLER 'Roots - Chapter 1' (Angel Air Records SJPCD143) (2003)

Crawler formed out of Back Street Crawler, who featured ex-Free guitarist Paul Kossoff. What you have on this CD are tracks from before Back Street Crawler and Crawler. Confused? You won't be as the well written and informative sleeve notes make it all clear. Four musicians form the core of the tracks on here, Terry Wilson (bass/guitar), Glenn Gibson (vocals), Tony Braunagle (drums) and Who/Free keyboard player John Rabbit Bundrick. Ex-Fleetwood Mac guitarist Bob Welch appears on a couple of tracks as well.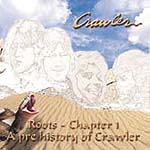 Opening the CD is the instrumental 'Better Be Ready', a typical 70's laid back affair with some neat guitar lines. 'Crazy' could be a 10 CC track, with it's call and response chorus. The track also has some Brian May sounding guitar soloing circa 'Queen II'. In fact the CD covers a fair old range of musical styles, which can be a strength/weakness for a band depending on how you view it. From the 70's soul feel of 'Every Little Bit Hurts' to the guitar frenzy contained in 'We All Need Love' through to the spacey instrumental 'Unseen Love'. There is also a bonus track, 'Better Be Ready' where Geoff Whitehorn pops-up on guitar. A re-recorded track from 1984 complete with an 80's feel in the synth department.
Very much aimed at Back Street/Crawler fans, although there is plenty on offer here for fans of 70's acts like 10 CC, Sad Café, Steely Dan et al. Good sound production throughout, with some tasty guitar solos throughout the album.
***
Review by Jason Ritchie


£12.99
Get The Feeling
© 2003 Angel Air Records. All rights reserved.