CORK 'Out There' Voiceprint VP267CD (2003)

If you're wondering what happened to funkrockmeister Eric Schenkman since Spin Doctors look no further. He's spreading his talents thoughout this album which is a further take on the concept of Power Trio. To bolster PT credentials, Corky Laing drummed with Leslie West in Mountain and that other power triumvirate master Noel Redding features on two tracks.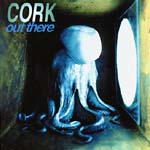 The band is best when riffing and bluesing, the ballad 'Tender In The Night' sounds a bit naff amongst it all. To get to the meat just skip to 'Under The Radar' which will transport you to the days when riff was king. Schenkman is one of the best rhythm players and if you enjoyed his funky figures with Spin Doctors you will appreciate this. Worth taking a chance on.
***
Review by James Rutherford

Under The Radar
© 2003 Voiceprint. All rights reserved.
***** Out of this world | **** Pretty damn fine |
*** OK, approach with caution unless you are a fan |
** Instant bargain bin fodder | * Ugly. Just ugly