CONNER Hello Graphic Missile Broken Horse (2006)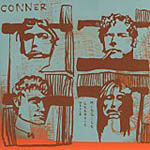 Hello Graphic Missile is the debut UK release from Conner, a band from Lawrence, Kansas peddling their own brand of garage rock that takes in influences such as Fugazi, 70's Stones, Richard Hell, The Smiths and Iggy Pop.
Formed in 2001 by singer/guitarist James Duft and bass player Phil Bonahoom, and latterly joined by drummer Bryce Boley and guitarist Tom Wagner, have done their share of treading the boards, having opened for the likes of The Arcade Fire, Hard Fi and the Killers on their mid-west leg of their 2005 tour.
Hello Graphic Missile is actually the band's second album release following hard on the heels of their self released debut White Cube and believe it or not, it was recorded on a monster analogue tape machine used to record Jefferson Airplane's Volunteers album.
There's some great guitar work, some great songs and some great vocals, and while it may be garage rock, there's enough potential on display here, and enough variety of styles to suggest that Conner could well be the next Killers.
***
Review by Pete Whalley
***** Out of this world | **** Pretty damn fine |
*** OK, approach with caution unless you are a fan |
** Instant bargain bin fodder | * Ugly. Just ugly
get ready to rock is a division of hotdigitsnewmedia group
Why should I buy this CD?
A strong garage rock debut
Burn baby burn
Overflow, Independent Women, Up To You, I'm A Balloon, Track 14