COLOSSEUM Live Cologne 1994(Angel Air SJPCD162) (2003)

Colosseum belong in the category of the short-lived but quite influential bands.The band was formed on September 1968 and decided to call it a day for the first time on November 1971. During that period they created their first two albums and toured continuously.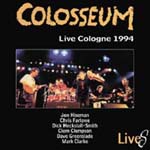 Several years after the dissolution of the band Jon Hiseman (founding member) recruited Gary Moore and Don Airey and created Colosseum II.But ironically, Colosseum II line up lasted for 3 years!!! The bands music style is Progressive Rock with plenty of Jazz and Blues influences. Back to history: 23 years after their first split up the original members of the band persuaded Jon Hiseman (founding member) to reform the band for a couple of gigs. Jon contacted his agents in Europe and after a couple of days his German agent offered him a 30 gig tour.
This CD is the second to be released as additional part of the Concert that the band played in Cologne-Germany in 1994 and contains six really classic Colosseum songs with "Those about to die"as my personal favourite. The quality of the recording is not questionable to all of you acquainted to the band. For all of you who do not know them, the only thing that i can say is that their live performances can put many bands to shame. The audiences participation is present throughout the show. There is also a good balance between the elements of improvisation and the technical ability of the members of the band - really impressive. But most importantly this gig was part of the reunion tour of the band, which is at the studio as we speak mixing their new album.
I really enjoyed listening to this CD and hope I'll be able to catch them on their 40 day tour fixed for the Autumn of this year.
Label website
****
Review by John Stefanis


£12.99
© 2003 All rights reserved.
Those About To Die
© 2003 Angel Air Records. All rights reserved.
***** Out of this world | **** Pretty damn fine |
*** OK, approach with caution unless you are a fan |
** Instant bargain bin fodder | * Ugly. Just ugly