Orchestral outing for Atlanta's finest ...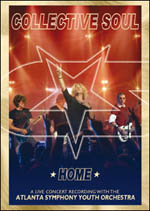 I was more than a little surprised when this arrived on my doorstep. I had no idea that Collective Soul were still around, let alone releasing a full length concert DVD.
I remember back in 1994, when I first heard CS, 'Shine' was a massive hit in Australia (where I grew up). Collective Soul, back then, played a very infectious brand of radio friendly well written rock songs, that you just couldn't help but liking.
It seems like not much has changed, the songs I don't know are instantly recognizable. The one's I do know, are played with as much vigor and passion as I remember them, from all those years ago.
Recorded in front of their own hometown fans in Atlanta, with the Atlanta Symphony Youth Orchestra. Collective Soul's music fits in well with the orchestral sounds, with the string sounds blending in effortlessly with the loud guitars of CS.
A stellar twenty song set is on offer here, all the hits are here, the songs I don't know, it doesn't seem to matter. Collective Soul know how to deliver a strong live set, no theatrics, no flashy light show, just a damned good band having a great time, playing to their home fans!
There is of course the usual plethora of extras to compliment the main event. The 'making of' is interesting, showing the band getting to grips with playing with the orchestra, the tension and moments of frustration. Which all goes to show, that everything seem to have went okay on the night of filming.
Most enjoyable and nice to know a band from my past, that still are sounding good and playing a great live set.
*****
Review by Graham Boyle
---
| | |
| --- | --- |
| | Print this page in printer-friendly format |
| | Tell a friend about this page |