CLOUDSCAPE 'Cloudscape' Metal Heaven (2005)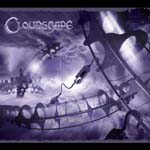 Cloudscape rose out of Doctor Weird and they play no frills melodic metal. It's all here from slow keyboard intros to double speed drumming and soaring guitar solos.
Best of the bunch are opener 'As The Light Fades Away' that has a catchy chorus and some neat guitar passages and 'Dawn Of Fury' which kicks in nicely after some pomp keys. Cloudscape have recorded a well played and produced album but it just lacks that killer tune or two to raise this release above the myriad of other power/melodic metal releases out there.
Nothing stand out on display here, just well played power meets melodic metal and certainly worth a listen if you're a fan of the genre. Bands like Power Quest, Intense, Rhapsody, Royal Hunt and Evergrey do it much better though.
***½
Review by Jason Ritchie
Under Fire
© 2005 Cloudscape/AOR Heaven. All rights reserved.