CLOSEDOWN Deflexion And Polarities
Hangmans Joke Records (2006)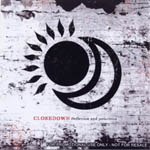 Yet another band from Canada, this time a little on the heavier side than the recently reviewed, fellow countrymen, Crane.
Closedown blend of hardcore and modern rock leanings, sometimes goes a bit beyond those styles, offering maybe a touch towards, the likes of the Mars Volta.
The most annoying thing about Closedown, is the screaming hardcore vox, which often is a detriment to an otherwise pretty decent song. The melodic strains of 'Ictus', is a great example, some great melodic music, then the vox comes in and destroys all the enjoyment I started to have.
The bio sheet, mentions, 'psycho-social', lyrics, Closedown, could be singing the phonebook, for all I can make out. Boys if your going to have something to say with your words, get you sing to make them audible.
There are some great moments on this debut EP, if all the vocals were sung clean and proper, I'd be a little more generous in my review.
As it stands, a good solid effort, that shows some promising signs for the future.
***
Review by Graham Boyle
Ictus
© 2006 Hangmans Joke Records. All rights reserved.
---
| | |
| --- | --- |
| | Print this page in printer-friendly format |
| | Tell a friend about this page |