In the words of Dewey Finn, "Let's Rock!"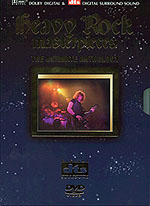 The first batch of releases from Ragnarock are a fine showcase for guitar led rock. There is some overlap, but not in actual song content, although Tony Iommi riffing his way through 'Headless Cross' with a latter-day Sabbath (with Tony Martin on vocals) appears on both DVDs.
Heavy Rock Masterpieces (Ragnarock DVDUK049D) is as poignant as it is powerful with appearances from Thin Lizzy with Phil Lynott (on a priceless 'Whisky In The Jar'), Alex Harvey ('Delilah') and topped off with Lynyrd Skynyrd and 'that' clip culled from 'Old Grey Whistle Test', and their last complete recording before the fateful plane crash.
In total, this is a superb celebration of a genre that is back in fashion, (thanks to The Darkness and White Stripes amongst others) and here we have a chance to catch up on some of the original heroes. Culled from a variety of sources including concert footage and TV archive tape, this is an intelligent compilation. One piece from Deep Purple was shot at the time of 'In Rock' and it is perhaps timely that the present-day incarnation of the band are revisiting classic album material on the current tour (even if it is 'Machine Head'). There is some wonderful playing from Ritchie Blackmore that will make you want to dig out your old vinyl, or Stratocaster.
The NWOBHM is represented with one of its greatest moments: '747 Strangers In The Night' from Saxon (with Biff Byford on vocals). That twin-guitar opening and riff will always rank as one of the finest - ever. Poison fly the flag for glam-rock with a spirited performance of 'Talk Dirty To Me'. And pomp-rockers will be pleased to see Magnum and a clip from 1991 featuring 'Vigilante'. If you ever caught Magnum in concert (or catch the latest version of the band when they tour again this year) you will hopefully agree this track is a definitive headbanger. It is a credit to Tony Clarkin's songwriting brilliance that the power of this classic never wanes.
All in all, this would have made good enough homework for "The School of Rock". ****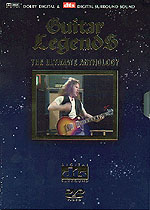 Guitar Legends (Ragnarock DVDUK046D) brings together some of rock's most revered plank spankers. Headed up by the wailing vibrato of Paul Kossoff (although 'Alright Now' is also featured on the Heavy Rock Masterpieces DVD) it features masterful contributions from Wishbone Ash's Andy Powell, Robin Trower (a champion gurner as well as guitarist) and the late great Rory Gallagher (filmed in 1970). Once again the footage is from a variety of sources, including Granada TV and German TV.
The inclusion of John Etheridge shows that this is the more eclectic package and in truth the jazz rock noodling doesn't sit well with the rest of the cast list. But I suppose it does show the diversity of guitar in a rock format and Etheridge is a dead ringer (in both looks and sound) for Pat Metheny.
The Jan Akkerman track is billed as 'Hocus Pocus' but does in fact include a snatch of 'Eruption' with Focus before they launch into the hit single. Recorded for the Whistle Test in December 1972 it shows a band on the eve of wider worldwide acclaim, not least because of their innovative guitar player. Contributions from Steve Howe and Steve Hackett give a rounded, satisfying, British feel to the rest of this DVD.
Both these collections make a fine introduction to the world of classic rock. Beware if you are already educated as much of the footage appears to be culled from Classic Rock Productions and therefore is previously released elsewhere. Indeed the only criticism is that there is scant detail about individual performances. As a primer, or a lazy person's introduction to guitars and heavy rock, these two DVDs take some beating and even the older footage gets the benefit of quality enhanced digital sound. ****
Review by David Randall