Guaranteed to make you laugh or cry...three soundtracks to past lives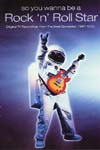 The idea of a non-stop jukebox of sixties hits linked with newsreel footage of those times works well, and briefly sets a context for the period. The music performances featured in So You Wanna Be A Rock 'n' Roll Star are culled from Radio Bremen's archives and the Top Of The Pops clone Beat Club and Musik Laden. The mostly black and white footage is evocative, whilst the audio shines in Dolby Digital 5.1. The Who, Cream and The Beach Boys rub shoulders with The Kinks, Spencer Davis Group and The Byrds. It's a vertitable potted history of sixties pop culture. *** (Classic Pictures DVD6063X) For those wanting a bigger helping, Classic Pictures has released several dedicated mid-priced EPs.
Wild Thing lacks the news segue but features more period pieces from those days when Brylcreem and Rickenbacker were de rigeur. If you were raised on a diet of Top Of The Pops, Radio Caroline and Party Seven you would do well to look in, they say if you could remember it you weren't there. So this will act as a timely stimulation for failing brain cells. *** (Classic Pictures DVD6059X)
Disco Inferno, on the other hand shifts a generation and features some of the disco acts of the late seventies. There are some kitsch classics, but interestingly the more obvious hits aren't chosen. For example, Gap Band are shown bumping and grinding to 'Burn Rubber On Me' when most will remember 'Oops Upside Your Head', or rather the idiot rowing routine that went with it and Sister Sledge perform 'All American Girls' rather than 'We Are Family'. Disco ranged from the banal (Kelly Marie), the oddball (Boney M), the rubbish (Lipps Incorporated) to the brilliant (Chic).
The only jarring thing about this compilation is the inclusion of James Brown who was never disco and, strangely, appears to be performing live. His performance does, though, stand in vivid juxtaposition: Disco was less about musical prowess but more about posturing and fashion. Brown's funk sounds already dated next to the syn drums and Korgs that took over the dancefloor, a triumph of synth over sweat.
For those of a certain age, this 21-track DVD will bring back some happy memories, for the rest of us we can just laugh and move on. *** (Classic Pictures DVD6058X)
Review by David Randall
© 2003 All rights reserved.