CLASS OF ZERO 'Nothing Will Survive'
Blastwaves Records (2004)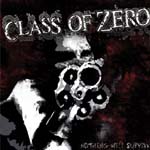 How often do you get to listen to a band that combines so many different elements in their music, in such a way, that you find it very difficult to classify them? Not so often I assume. The real question though is: how often do you get to listen to a band whose musical foundations are built in a style of music that you absolutely loathe, yet they manage to come up with a very strong and interesting album? I hope that my introduction to this review will explain exactly what I felt when I first listen to "Nothing Will Survive", the debut album of a US based band called Class Of Zero.
The band originates from Simi Valley in California, and even though they are promoted by their label as the messiahs of Hard Rock, their music is mostly based on alternative rhythms.
Now you probably know by now what my feelings towards this specific genre of Rock music are, and the fact that there are also moments in this album where the band experiments with Hard Core & Rap melodies should have made "Nothing Will Survive" less than appealing to me. Well, that's not quite the case.
I have to admit that after I finished listening to this album for the very first time, I felt an urge to play the CD all over from the start. No, I was not particularly impressed by the musical abilities of the five musicians that this band consists of, neither was I mesmerised by any flamboyant guitar solos or impressive drumming skills. What this band has to offer in large quantities is energy, and an honest Rock N' Roll attitude. Now I realise that it's the fact that they're making honest music that brought them not only to my attention but also to Lemmy's who decided to offer them the position of the opening act for Motorhead's 2004 tour.
When "Incomplete" burst onto my speakers, I thought that I was listening to a harder version of the Offspring, and the same applies with "Make me Sick", a song that also bares a groovy Red Hot Chilli Peperesque touch. The one song that is comparable to Anthrax's Sound of White Noise opus bares the clever title "Unreal as it gets". It was by far though songs like that "Buried" and "Forever" that I found the most interesting in the whole album, with the latter being in my opinion the band's most powerful and impressive composition so far.
"Nothing Will Survive" was produced by Mike Butler, and I think that it is him that the band should be grateful for one of their biggest selling points - the strong and powerful production that makes this release quite attractive. This album has a very good vibe, and even if you are a loyal follower of a specific style of music, as I'm pretty sure that most of you are, I suggest that you listen to "Nothing Will Survive" before you rush to pass judgement.
Class of Zero is not the kind of band that will bring a revolution, nor are they the most technically skilled musicians in the world, but they are honest! I am sure that quite a few fellow journalists with a slightly different music taste will probably give a higher rating to this album, and I sure as hell cannot blame them for that. By the end of the day, if Lemmy decided to invest in them, why shouldn't you do the same?
***
Review by John Stefanis