Symphonic metal fails to hit the mark...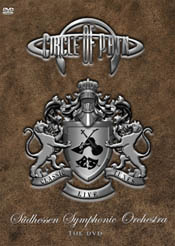 When I got my hands on the last pack of promos which were dominating the majority of the space in my already suffering letterbox, I realised that our contacts in ZYX music were kind enough to include not only the double CD edition of the album "Classic Live Tunes" from the German Hard Rock/Metal outfit Circle of Pain, but also the DVD release of that same concert. That is when I made a conscious decision to make two separate reviews - one for each product. Why?
Well, I have already expressed my opinion regarding Circle Of Pain's music in my review for the double CD album, and by the end of the day, there are different standards under which you evaluate a DVD release, so...here we go. The first thing that you will realise after taking a quick look at the main menu of "Classic Live Tunes" is that there is a huge amount of material to be found in that release, and that is definitely one of it's biggest selling points. Of course, the main focus lies in the nineteen compositions that are featured in the section "The Paradox Classics Show", which finds the band performing their concept album "Paradox of Destitution" in its entirety.
The DVD showed me what I had imagined from listening to the CD: a very energetic, passionate and expressive band ready to deliver their material in front of a numerous, yet not so expressive audience.
The one person that seems to be more into the whole experience is bassist Sandro Lo Giudice, but Uwe Johann (vocals) was also quite busy trying to get the crowd involved while at the same time pushing his vocal chords to the very limit - sometimes quite unsuccessfully, though.
The camera crew did a very good job, filming the band from every possible angle - yet there is something in the whole presentation of this show that gives it more of a home video feeling rather than a strictly professional job. Is that bad? Not in my agenda! One thing that I do believe is negative is the fact that the Sudhessen Symphonic Orchestra, whose contribution was supposed to be of great importance, is hidden somewhere in the background - both physically and musically speaking. There are a few moments where a large choir is clearly audible, and the numerous classical instruments are allowed to take a leading role, and that is not what I expected from a release that bears the title "Classic Live Tunes".
There are more things that could be said here, but let's move to the remaining features of that DVD.
Second in turn comes the "Ballads and Tributes Show", which contains three of the band's ballads, as well as covers too "Knocking on Heaven's Door" (Bob Dylan), "Doctor Doctor" (UFO) and "Because the Night" (Patty Smyth). Strangely enough, the only cover that I really enjoyed was "Because The Night", simply because it sounds totally different than the well-known Pop anthem.
In both "Knocking on Heaven's Door" and "Doctor Doctor", the members of Circle of Pain tried to recreate the same feeling that could be found in the originals versions, and that was a big mistake as far as I'm concerned.
The remaining features consist of Encores (featuring an interesting cover to Bon Jovi's "Runaway"), and a rich Photo gallery. The quite interesting 'Making of the band's Video clips', German TV Show presentations, Backstage Scenes and Interviews which are featured in this DVD were unfortunately all in German, and seeing as no subtitles were available, it made it impossible for me to either understand or enjoy them.
Overall I think that the "Classic Live Tunes DVD" is a good release - certainly ideal for the band's loyal fans. There are a few things that should have been better handled, though, and seeing as Circle of Pain are obviously targeting the German market...
***½
Review by John Stefanis