CHRIS BROWN Now That You're Fed (2006)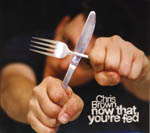 Some people are just too talented. Sometimes you just want to break their fingers and say 'Hey you - share some of that talent around!' One such is Chris Brown, whose day job is one of independent film maker (which apparently he's pretty good at) and the rest of the time he spends as a musician making an album like this.
Imagine a square with Paul Simon's songwriting at one corner, the Beach Boys' harmonies at another, XTC's off-kilter lyrics at another and finishing off with The Beatles' sheer musicality. Somewhere in the middle of this square is Chris Brown and Now That You're Fed is his debut album.
Having name-checked all the above you're probably thinking 'Yeah, as if' but trust me, this is really that good. Over the twelve tracks you would be hard pushed to find anything remotely like filler and some of the stuff is truly outstanding. There's some great acoustic guitar playing, nice piano figures and to-die-for harmonies scattered all over the place.
Hard then to select some highlights, but the opening two tracks 'Right On Time' and 'I Won't Ask Why' really get the ball rolling and the feet tapping, 'Ordinary Day' is a lovely ballad, 'In The Kitchen' has an amazing instrument-count, and my own favourite, the excellent strumming and arpeggios of 'Things She Laughed About'.
By anyone's criteria, (except perhaps death metal enthusiasts!) this is a superb debut album, and fans of any of the aforementioned bands can certainly invest with confidence. As you can probably tell, I loved it!
*****
Review by Alan Jones
Right On Time
© 2006 Chris Brown. All rights reserved.