Middle-age spread in Lyme Regis...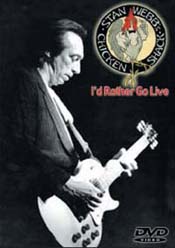 Stan Webb and his band Chicken Shack have been playing the blues since the late 60s, and is famed for some excellent rockíníroll guitar over the years.
Sadly, though, with age he has mellowed, as this concert shows. Recorded in Lyme Regis, the music, fans and band all seem to share the same middle-age spread.
That said, the music is excellent, if a little too laid back in places. 'I Know You Know Me' and 'Stansís Blues' do add some energy, and the slide guitar is great too.
On the whole itís also a well put together package, with features including interviews with fans and Stan Webb and a band history/discography section.
**½
Review by Joe Geesin


£12.99