VARIOUS 'Chicago Blues Reunion'
Out Of The Box Records (2005)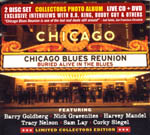 It's hard to believe, as Nick Gravenites reminds us, that many of the assembled cast on this live CD changed the course of musical history - circa 1964/65 - when a bunch of dedicated white blues musicans teamed up with Chicago blues players such as Jerome Arnold and Sam Lay and took on the torch beqeathed them by the likes of Muddy Waters, BB King etc.
As a result this special group of blues die- hards reinvented the blues for a new generation and a wholly different ethnic group.
For while Chicago blues was previously the preserve of black blues clubs in squalid Chicago dives, people like the late Paul Butterfield, Mike Bloomfield and even Janis Joplin embraced the music, lived the lifestyle, and dragged Chicago blues on to the world stage.
And what we have here is essentially a bunch of blues survivors from that time. There an interesting mix of semi forgotten blues catalysts such as Barry Bromberg and Nick Gravenites, some hard working session players such as Harvey Mandel (Canned Heat), and Sam Lay (Jimmy Rogers), and of course Corky Siegal and Tracy Nelson who have continued to gig and record in their own name.
So what of this live project? Well despite obvious misgivings as I scanned the playlist and saw the inevitable 'Born In Chicago', 'I'm A King Bee' etc, there's so much good playing and on stage effervescence that all fears were quickly allayed.
Nick Gravenites delivers an authoritative air throughout, and Tracey Nelson reminds us of what a great voice she still has. There's also some pleasant surprises, such as Harvey Mandel who brings an awesome tone to the shit kicking 'GM Boogie' - far exceeding anything Canned Heat have delivered in recent years.
The ensemble swing with abandon on 'Drinking Wine', and from thereonin, there's a real party feel that leaps from the tracks.
The gatefold CD sleeve has some great photos including a Dylan/Mike Bloomfield pic which is given its context to this album by a young Barry Goldberg complete with head scarf. The excellent liner notes are provided by Joel Selvin, and the whole project is meticulously put together.
In an age of tired old blues re-issues, this is an inspired project well worth checking out.
****
Review by Pete Feenstra