CHICAGO XXX Rhino (2006)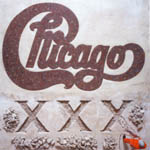 The last time I saw Chicago it was one of those TV shows that doubles as cabaret, 'Live By Request', where they engagingly ran through their best-known tunes.
The reality is that Chicago haven't really done much since their seventies heyday, apart from reprising their greatest hits, all of which can be shoehorned into the decade from 1969-1979. And the predictably entitled XXX puts them firmly in AOR big ballad territory they first trod in 1976 with the best selling 'If You Leave Me Now'.
Of the original band members we still have Lee Loughrane, James Pankow, Walt Parazaider (these three form the time-honoured horn section) and Robert Lamm. But the guts of the band died back in 1969-71 and what we have here is well produced pap for a generation reared on arenas and pizza. Only '90 Degrees and Freezing' - ironically - raises any temperature, and raises also the spectre of that original band.
Lovers of Styx, REO Speedwagon, early Toto, and Earth, Wind and Fire (yes, I'm afraid so) step up, including those for whom both brass and the big ballad hold no fear. Otherwise, avoid this CD like the proverbial.
***
Review by David Randall