Cher,fishnets and a ladyshave...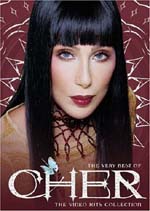 Cher. The Madonna of her generation. How many other female artists can you think of who have so successfully transcended the decades?
This is a mixed bunch of 15 videos spanning much of Cher's four decade career. Perhaps not a definitive collection, but for the most part, big budget eye candy.
It kicks off with (relatively) recent Believe - a wonderfully clever and catchy tune (impossible not to sing along) that has a typically 'glossy' supporting video. Nice enough, but its the strength of the song which carries it.
And then we're straight into her late 80's soft rock period with Turn Back Time. What a scorching video - it's outrageous - fishnets, sussies and an extremely close encounter with a Ladyshave in the nether regions. Looking back, it's hard to believe she got away with it. It makes Britney's and Christina Aguilera's recent attempts to 'sex it up' look tame.
And so it goes on, body stockings, plunging necklines, butt shots. Every opportunity is taken to flash the flesh. It may not be subtle, but it works. She's one smart cookie and uses everything she's got. Like Madonna, she may not have the greatest voice, but she picks material to show it off to best effect - her delivery of Walking In Memphis is stunning. And she knows how to play to the camera (her film experience has no doubt helped here).
There's some exceptionally strong material here - the aforementioned tracks, plus Strong Enough, We All Sleep Alone, Heart Of Stone and The Shoop Shoop Song to name but a few. And while some of the earlier vids are a bit 'dated' they do let you play the 'spot the plastic surgery' game.
But let's not forget, videos are only there to supplement the music, not to usurp it. And the joy of this collection is that you can play it with the TV turned off and it's just as good. Think I'll invest in the CD as well so that I can listen to it on the move.
You can see why she's filled arenas around the world. It's called class.
****
Review by Pete Whalley