CHARIOT 'What Goes Around' Rippa Rock RIPCD1 (2004)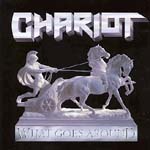 London-based Chariot may have been a little late for classic-period NWOBHM, with their debut album 'The Warrior' released in 1984. However, they took their cue from bands like Saxon and Tygers Of Pan Tang rather than more heavyweight US contemporaries.
Consequently, these recordings were already dated in 1987 when readied for a projected third album. The opener 'I Can't Take It' will have you reaching for the "famous heavy riffs" diary as they shamelessly plunder Rainbow and Saxon signatures.
Having got the plagiarist accusations out of the way, there's a lot of damn good riffing on display here and there's no doubt an appeal to those who remember with affection the boom time for hard rock in the late eighties.
Chariot may never have battled in the major arenas but this 2-CD package (the second featuring outtakes and live tracks) is a good introduction and an even better retrospective.
****
Review by David Randall
I Can't Take It
© 2004 Rippa Rock. All rights reserved.
***** Out of this world | **** Pretty damn fine |
*** OK, approach with caution unless you are a fan |
** Instant bargain bin fodder | * Ugly. Just ugly
get ready to rock is a division of hotdigitsnewmedia group
Like this, try this:

JAGUAR