CELTUS 'Moonchild' Strathan Music 80191300062 (2005)

Celtus hold many fond memories for fans who recall both their consistent albums and engaging live shows.

At the end of the 1990's, there had been a revival of things Celtic in music with 'River Dance' and The Corrs leading the way. What the McManus brothers brought to the table was rock credibility (they had formerly been Mama's Boys) and a pop sensibility. For a time they became the darlings of Breakfast TV and mainstream radio.

The tunes melded a romantic and infectious Celtic lilt chiefly the result of John McManus' sweeping, plaintive and sensitive vocals and use of folk instrumentation. In their wilder moments, Celtus were Horslips for a new generation whilst the slower pieces became widescreen epics fit for a Celtic soundtrack.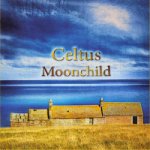 On a personal level, 'Moonchild' was a deeply reflective album and one in which they strove to exorcise their 'musicians block' after the tragic death of their brother Tommy from leukaemia.
It all begun to unravel a few years later when Sony unceremoniously dropped them after the excellent album 'Portrait'. It has happened so many times in music where a band becomes subject to the vagaries of current taste and investment.
For many, 'Moonchild' is the band's magnum opus and they will welcome the new version which has been scrubbed off, resequenced, and with two bonus tracks added. With new artwork, too, this is essentially a fresh-looking and fresh-sounding release. The Celtic infusion lends a timeless quality to the tracks, with the standout title track, 'The Pilgrim', 'We Two Are One' and the superb 'Strange Day In the Country'.
When the original album was first released it was easy to cherry pick the radio-friendly tracks but, somehow, in retrospect (and remastered) it's the other tracks that demand attention. 'Love Turns To Dust' is simply magnificent with John's mournful vocal, a reflective acoustic harmony and wistful flute. The instrumental 'Trikuti' is another that demands new evaluation, a broody piece with shimmering keyboard and acoustic guitar. 'Rosa-Ree', essentially Irish, damned infectious.
'Every Step Of The Way' previewed a funkiness that the band further developed in live performances and later with keyboards man Dan Axtell (with whom John has worked latterly on library music) and best displayed on the superb 'Rooted' album in 2000.
The bonus tracks include an instrumental 'The Awakening' (included on the later 'Portrait' album) and 'All Around The World'. It's a shame that the special radio mix of 'Strange Day In The Country' wasn't included for completism but overall this is a splendid production.
John McManus is still busy writing and composing music for film and TV. His latest 10 minute short film, starring veteran actress Dora Bryan OBE titled 'Someone In Particular' will be shown at several festivals including Cannes on 20th May 2005. Pat is doing well with a new band called Hi-Voltage, and is enjoying Irish country life. It would be marvellous if the two were to play together again as Celtus, especially if there was renewed interest in this reissue. Whilst a reunion is, sadly, unlikely, for now we should all luxuriate in one of the finest fusion bands of recent times.
Feature
Album review (John McManus)
Interview (John McManus)
*****
Review by David Randall


The Pilgrim
© 2005 Celtus/Sony BMG Music Entertainment(UK)Ltd/Strathan Music.
All rights reserved.