CAPERCAILLIE 'Choice Language'
VRTCD006 (2003)

When Capercaillie first appeared on the scene in the late-eighties they almost single-handedly cleaned up on the Celtic fusion scene. Blending irresistible funk rhythm with traditional Celtic melody, fine instrumentation, and topped with Karen Matheson's superb vocals, they couldn't really fail.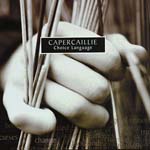 In over a decade they have maintained their high standards, and this new offering sees the band sensibly staying in contemporary folk fusion territory, and this is going to delight their legion of fans. They have remained at the cutting edge of this genre and they've also managed to influence others, but it has to be said they do it better. This is partly due to Donald Shaw's brilliant arrangements. He is no slouch on keyboards and imparts superb synth and Rhodes textures, whilst Michael McGoldrick and Charlie McKerron are brilliant solo performers in their own right. These two get an almost mandatory showcase on the instrumental 'The Sound Of Sleat' which seduces the listener with its gradually building Irish lilt.
There's a jazzy feel to some of these tunes, although the fiddles and flutes keep the band's Celtic feet firmly on the ground, whilst the world folk tinges (no doubt influenced by their Sardinian sessions and first aired on 1997's 'Beautiful Wasteland') widen the horizon. As ever Karen Matheson's vocals impress, on the Gaelic tunes you don't need to know the words to lose the plot - this is 'mouth music' - but listeners will warm immediately to the more accessible 'Little Do They Know' and the upbeat 'The Boy Who'.
Strangely, this is the band's first studio album since 2000's 'Nadurra'. If not exactly over-zealous in the business of CD manufacture, 'Choice Language' reasserts Capercaillie's ascendancy in their particular genre.
****
Review by David Randall

The Boy Who
© 2003 Capercaillie/Vertical Records. All rights reserved.