CANNED HEAT 'The Boogie Tapes Volume 2'
Ruf Records RUF 1103 (2004)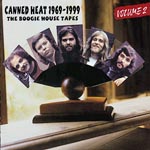 When a band has been going for so long, in various formats and guises, you're gonna have some leftovers worth listening to. Playing a mix of blues and southern boogie, The Heat lasted in various guises for over 30 years with several hits along the way.
Many of the tracks here are genuine rarities and gems, tracks recorded during rehearsals, TV commercials for Levi, Seven Up and others to which Canned Heat provided music, and a wealth of live material. Extra special are 4 tracks recorded by Alan Wilson while in hospital shortly before his death. The band never got round to recording them so his Robert Johnson style solo picking/singing (despite the poor sound quality) are a real treat for the collector.
Disc 2 contains several live tracks recorded during the 80s and 90s, showing how good the band remained.
The music, track details and intention are all excellent, the low mark due to the limited appeal of this double set. But for fans it is essential listening.
***½
Review by Joe Geesin