BRIDES OF DESTRUCTION 'Here Come The Brides '
Silverline 2882609(2004)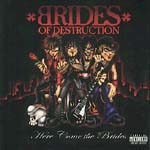 Brides of Destruction include Motley Crues' Nikki Sixx and LA Guns' Tracii Guns, and claim to mix Sunset Strip rock history with the fire and energy of today's new metal bands. They do have a good attempt at this and this CD is good. However, if the second album does not go bigger and better then the fans of Motley Crue, in particular, will be very much in favour of a Motley reunion (will it be the much touted "Farewell Tour"?).
Opening tack "Shut the F*ck up" is an energetic song with a sneering punk vocal and a Metallica guitar solo, and is reminiscent of Buckcherry. It is also one of the best tracks here, along with "Brace Yourself" and the song "LIfe" (my favourite on the album) which sounds like it would fit in on Motley Crues "Generation Swine" album. There is a great ballad in "Only Get So Far" and I really think they can produce a great second CD.
On the DVD extras we have the video for "Shut the...", which is a modern looking video of the band playing the song - it is a good video which should do well on MTV2. There is also a documentary on the band which gives a great insight into the band, what they are trying to achieve and how the album was written, this is a good extra to have included and was easy to watch. All in all I think this is a good release and Brides will mature into a great band.
***
Review by Nikk Gunns
Natural Born Killers
© 2004 Brides Of Destruction/Sanctuary Records Group. All rights reserved.