BOWES & MORLEY 'Mo's Barbecue '
(STC Recordings STC2004-1)(2004)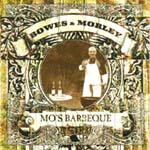 The second album by Thunder's Luke Morley and Danny Bowes, following on from 2002's 'Moving Swiftly Along'. First things first, this isn't a Thunder album full of catchy foot stompers and heartfelt ballads, rather it has a deep vein of soul running through it as both Morley and Bowes spread their creative wings and tip a nod at a few of their influences along the way. Joining them are drummer Mario Goossens (Hooverphonic), Thunder's bass player Chris Childs and Mark Taylor (The Cult/Jimmy Cliff) on keys/piano.
Seven of the eleven tracks are penned by Morley, the others are all covers. Pick of the new songs are 'Desire' with Bowes in fine soulful mood and backed by some sexy horns (not unlike Terraplane tried, albeit on a more basic scale on their second album). 'That's Not Love' is a late night lovers' number for those candlelit moments! The mellow 'On A Day Like Today' is possibly the only track that could have made a Thunder album.
And do onto the covers- a funked up 'Living For The City', the Stevie Wonder standard with gospel backing and a tasty Morley guitar solo. Only Paul Rodgers or FM's Steve Overland could have equalled Bowes for his passionate and soulful vocal delivery. 'I Can't Stand The Rain' sounds strange with a male vocal but Bowes & Morley pull it off but 'Why Did You Do It' (originally by Stretch) doesn't do it for me I am afraid. Pick of the covers has to be Free's 'Come Together In The Morning'. Feck me that vocal sent shivers down my spine! It's as good as Paul Rodgers and from a massive Rodgers fan like myself that is the highest praise I can give!
Production is crystal clear, as is all the album and you can pick out the organ, piano and bass lines with ease - close your eyes and it could be Free. Inspired choice of covers and obviously songs that have shaped Bowes & Morley's musical direction down the years. So nice to hear proper cover versions that respect the originals and aren't off the cuff covers done by a bunch of fading 80's glam rockers.
So if you want Thunder buy a Thunder album but if you want to see what makes Thunder's heart tick try this album. Good to see musicians exploring music outside of what is expected of their 'day' band. More please!
****
Review by Jason Ritchie


£12.99