VARIOUS Classic Rock presents Blues Rock
Gut (2006)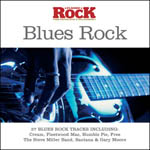 Another magazine sponsored compilation, this is a great opportunity for an introduction to a much maligned rock style. Great in places, lost in others. There's some overlooked classic music here, which will be great discoveries to many. Frankie Miller is a prime example. And any compilation that kicks off with Cream's 'Strange Brew' can't be all bad.
ZZ Top's 'La Grange' and Pat Travers' 'Snortin' Whiskey Drinking Cocaine' are superb tracks. Add in George Thorogood, Groundhogs and Gary Moore and it's rock heaven.
But from here on we hit a few problems; Santana anyone? No thanks. And Fleetwood Mac, Free and Canned Heat are all represented by far from the best examples.
'On The Road Again' may have been a hit but 'Let's Work Together' is more blues rock and a better track by a long shot. And how can you include The Allman Brothers and overlook every other southern rock band? Especially when some like Molly Hatchet were so much better.
Ram Jam's 'Black Betty' is another outstanding shot though.
And Jack Bruce - yes please, Golden Earring no thanks. And again 'Still In Love With You' is not Thin Lizzy's best example.
In the main it's Bad To The Bone - and it's worth it for that track alone.
****
Review by Joe Geesin
Related>> Album review