BLUE OYSTER CULT The Singles Collection (2005)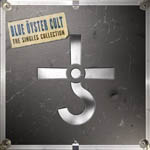 Now this was almost a very good idea. It would have been nice to have a chronological collection of the Cult As and Bs, with some nice sleeve illustrations and a detailed discography.
What you get is a hodge podge of (predominately) American A sides with some European and Japanese A sides thrown in to boost up the track quotient, along with dull, by the numbers, sleeve notes from Malcolm Dome.
However, the music is flawless in places, and it's nice to hear some tracks that I rarely play on their original albums – "Then Came The Last Days Of May" always surprises me every time I hear it, and it really needs to be moved closer to the front of the BOC collection. "Moon Crazy" from "Mirrors" is another delightful track, especially shorn from its sub par album as is "Fallen Angel".
Elsewhere it's classic BOC – "Godzilla", "Cities on Flame with Rock N Roll", "Flaming Telepaths", (Don't Fear) the Reaper", the divine "Burnin' For You" and "Astronomy". Of course, there is some rubbish in there – "Goin' Through The Motions" – although the Bonnie Tyler version was great! – and the covers of "Born To Be Wild" and "We Gotta Get Out Of This Place" are inconsequential.
I'm not sure who this is aimed at, as there's plenty of cheap BOC compilations about, and the collectors will bemoan the packaging and content, but it is an excellent reminder of what a great band Blue Oyster Cult are.
4 stars for the music, 2 for the concept.
Review by Stuart Hamilton


£12.99