BLONDIE 'Greatest Hits'
Double Disc CD/DVD EMI 345 0542 (2005)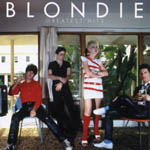 Oh dear, yet more recycling. So what's new? Well if you've got one of the numerous Blondie 'Best Of's currently in circulation you may be nashing your teeth over this one.
The addition of a DVD with a collection of the hit single videos makes this an almost definitive greatest hits purchase. However, buyer beware, the DVD content was first released in 2002.
Punters may want to investigate the DVD first, if only to understand what all the fuss was about. Blondie were among the first truly photogenic bands of the video age, the meld of poppy post-punk and baby doll pout proving irresistible.
It's the CD, though, that reminds us just what a fabulous hit machine Blondie became. The track listing is not chronological but that's no problem.
Their first single 'X-Offender' came out nearly thirty years ago and shows their punk credentials but by 1978 they had refined their offering and 'Parallel Lines' yielded two No.1's: 'Sunday Girl' and 'Heart Of Glass' and the Top 5 'Hanging On The Telephone'.
They developed the disco vibe of 'Atomic' on the following album 'Eat To The Beat' (1979) and, in 1980, 'Autoamerican' featured the classic 'Rapture'.
If Blondie, chameleon-like, adapted to their surroundings in the early eighties they were less able to fight creative block. By 1992 the band had split and Debbie Harry pursued a solo career whilst nursing the very sick Chris Stein.
The band's revival is also charted here with the inclusion of 1999's comeback hit 'Maria' and from 2003's 'Curse Of Blondie', 'Good Boys'. There is also an excellent remix of a track that first appeared on their eponymous album in 1976: 'In The Flesh', whilst 'Rip Her To Shreds' is still a live favourite and is included. 'Detroit 442' and 'The Hardest Part' are the only tracks on the DVD but not on the CD
Throw in a bonus track for good measure, 'Rapture Riders: Blondie Vs The Doors' (a club remix of 'Rapture' and 'Riders On The Storm'), and that definitive DVD, and you have an essential retrospective. Much teeth grinding from the faithful, but great for those who will be checking out the band during and after their forthcoming 25-date UK tour.
****
Review by David Randall