BLIND GUARDIAN A Twist In The Myth
Nuclear Blast (2006)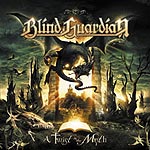 What a great month, not only do we get the new album by Rhapsody Of Fire but now we have Blind Guardian's new album, a band who at times OTT even Rhapsody!
I was first introduced to the delights of this whole genre of power/pomp/epic call it what you will metal by Ian Pollard and Charlie Farrell and if like me you loved 80's bands like Helloween you should try these bands out ASAP.
This is superb romping metal with glorious harmonies - you can't help but smile as you listen to 'This Will Never End' or the 'na na na's' on 'Turn The Page'.
'Fly' takes a neat twist with the guitars taking the lead role for some wonderful soloing. Of course this being Blind Guardian you have the epic ballads and 'Carry the Blessed Home' doesn't disappoint, although 'Skalds & Shadows' is the one weak track on the whole album.
'Lionsheart' reminded me of Twisted Sister as vocalist Hansi Kursch sounds like Dee Snider at times.
Buy this album and the new Rhapsody Of Fire albums and enjoy yourself!
****½
Review by Jason Ritchie