BLACKMORES NIGHT The Village Lanterne
SPV 99702 (2006)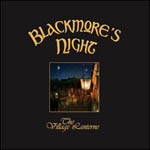 And with a hey nonny nonny, they return. A few years ago when it seemed that Ritchie Blackmore had shunned the Strat for a Codpiece, many commentators were dumbfounded.
A distinct penchant for dressing up in tights and giving discounts to their fans who arrived at gigs as if it were King Henry VIII's banquet, did nothing to dispel the concerns.
'Village Lanterne' continues the saga of Life after Purple. It is best enjoyed if you set aside preconceptions and, moreover, any Purple connotations.
Sadly for some, it seems, Ritchie has just about hung up his Strat and regressed to the Middle Ages. That's not to say he doesn't thrash out an electric lick or two on this album, but its the pastoral rather than the Purple that wins out.
And once those inevitable concerns are set aside, this album can be enjoyed on its own terms.
Candice Night is a fine vocalist who has a very pure delivery on the folk-rock tunes and ballads, notably 'Faerie Queen' but can rock out when necessary ('I Guess It Doesn't Matter', 'Just Call My Name').
Inter-twined with a selection of essentially upbeat ditties, Ritchie features a couple of exquisite acoustic interludes ('The Messenger', 'Village Dance'), whilst 'Child In Time' is reprised for the faithful.
The variety of moods and styles on offer may alienate the less patient and inevitably some listeners will want to hear more of a particular style and feel frustrated. Blackmore himself has described the sound as Mike Oldfield meets Enya. Certainly Oldfield in 'Moonlight Shadow' rather than 'Tubular Bells' mode comes to mind.
Elsewhere, there are folk-rock tunes with East European flavours ('Mond Tanz') and Albion Band overtones ('Olde Mill Inn'), and even an authentic version of Ralph McTell's 'Streets Of London'.
When Ritchie does withdraw the Strat from its cobwebbed case and rocks out on the album closer (the Heart-soundalike and old Rainbow track 'Street of Dreams'), it will all end too soon for some.
****
Review by David Randall
The Messenger, © 2006 SPV. All rights reserved.


£13.99
Related>> Album review
Related>> DVD review
Related>> Interview