Cue hair,beards and brutal chops...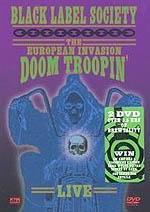 This double disc covers the former Ozzy guitarist Zakk Wylde's group on tour late last year, kicking off with pretty much the entire show in Paris. Masses of hair, beards, and twin guitar metal of the brutal variety.
Wylde handles vocals and pretty much all the lead guitar, a proportion of it high speed while the remaining 3 churn out some mean rhythms. Vocals high and low, screeching then moody. Many fans get into the spirit with in vogue sleeveless denim jackets, some with fake Wylde (wild?) beards too. That's when fanship becomes lunacy, but at least they're not taking themselves seriously. That's rock'n'roll for you.
The large and enthusiastic audience are clearly there to enjoy themselves.
Tracks include 'Stoned And Drunk', 'Been A Long Time', 'Suffering Overdue' and 'Genocide Junkies', which I'm sure will please fans.
As a non fan, I found the frequent solos, especially as the 'intro jam' was just a huge fretboard mastubatory experience.
All done with plenty of attitude, but I guess that's what the kids are into these daze (yes pun intended).
A few bars of 'Iron Man' (now that's what I call real metal) raise the roof.
Attitude aside, you can't deny Wylde's ability (check out the acoustic moments) or inventiveness – taking a camera off a cameraman to film the audience.
There's also 4 tracks from London's Astoria on the same tour (I was next door watching Girlschool that night). A larger stage than Paris and a crowd surge approaching a mosh. Well recorded too.
The package is well put together, with all the material on one disc and the extras on another; a backstage featurette and 4 music videos.
Certainly a fan pleasure, probably more too.
****
Review by Joe Geesin