BIG STRIDES Cry It All Out Tall Order Taller CD017 (2006)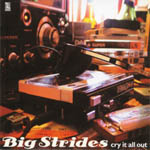 Big Strides are an interesting outfit that refuses to be cowed by the restrictions of musical style or genre. They lurch this way and that with some rant driven grooves that are fleshed out by a high in the mix drum sound and sonorous double bass lines.
The songs are topped by vocalist and song-writer Marcus O'Neill's observational narratives. O'Neill is the kind of performer who effortlessly stands outside of the restrictions the studio sets him and relishes delivering his lyrical imagery in a kind post David Bowie/Anthony Newley, angst ridden phoney cockney drawl.
Make no mistake O'Neil is the kind of stream of consciousness poet that crosses over from Dylan to John Cooper Clarke, with just a sprinkle of possible autobiographical or perhaps imagined scenarios delivered in rhyming couplets and oblique word play.
And what are we to make of the name Big Strides? Are we talking big trousers and big attitude here, or are we to intellectualise the project as a metaphor for the jazzy innovations of say Coltrane's 'Giant Steps'? Probably not, but at times the lyrics and musical arrangements hint at a wide span of genre's from Blues to Punk via Funk, and even a hint of Bossa and Soca.
But being lyrically eclectic has always been part of the poet's armoury and O'Neill lives and breathes through his mix of word play and occasionally emotional vitriol. And there are enough hooks, humorous moments and bluesy grooves to make you want to return to his eclectic world.
In short this album flatters to deceive but leaves enough of a calling card to make repeat listening essential. Perhaps the album 's title 'Cry It All Out' best summarises 16 tracks that don't stay at one station long enough to make you by a ticket, but they do however enchant enough to make you read the small print, as in who are these guys, where do they come from and where are they going?
The two quasi ballads 'So Long' and the narrative driven 'Joys of Spring' work best with the bluesy vamp of 'Cookies (Donald's Theme)' being typical of some teasing but oblique lyrics that suggest heavy-duty Republican political skulduggery but never fully reveal their hand.
Big Strides are undoubtedly hip, cool, and musically accomplished, but quite who their target audience is remains a question that will doubtless continue to nag both the band and their enterprising record company.
***
Review by Pete Feenstra
Cookies (Donald's Theme)
© 2006 Big Strides. All rights reserved.
---
| | |
| --- | --- |
| | Print this page in printer-friendly format |
| | Tell a friend about this page |