BIG BOY PETE The Perennial Enigma Angel Air SJPCD224 (2006)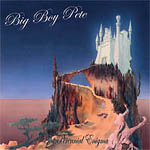 Pete Miller, aka Big Boy Pete, was famed for recording rockíníroll and psychedelia solo and with other projects (Peter Jay & Jaywalkers et al). This solo album was recorded in the early 70s and remained unreleased until now.
Handling the guitar and vocals, and featuring both upright and fender bass, itís a good if rather dated pop album. The rockíníroll, even its rockabilly touches, pop et al all lean to 60ís psychedelic pop.
Havana Juana has a holiday feel, while Rudyís In Love is very 60s despite the opening guitar effects.
A lot of fun but far from enthralling. Of interest to fans, especially with the packing featuring extensive notes and a discography.
**½
Review by Joe Geesin


£12.99
Get Up And Dance
© 2006 Angel Air Records. All rights reserved.