BEULAH 'Mabel And I' Universal Classic & Jazz (2005)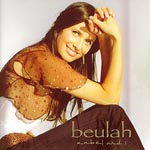 Beulah is the latest in a long line of UK singer songwriters, but unlike many of her contemporaries is signed to a classics and jazz label. And naturally, the jazz tag has drawn comparisons with the likes of Norah Jones. But in truth, there are few to be found.
Beulah was brought up on a diet of Carole King, James Taylor (Sweet Baby James gets a mention in the lyrics of Leaving Home) and Crystal Gayle. Mabel And I – produced by Jon Kelly – is her debut album.
The first thing that hits you is the quality of Beulah's voice – sweet and pure. The second that Mabel And I is a very gentle album (Clifford T Ward springs to mind – another storyteller whose albums were equally tranquil). And the third is the image – while Beulah is an attractive 24 year old, the sleeve shots suggest marketing aimed at a more mature audience.
So what of the content? The opening track Stay has an almost country feel. Leaving Home is wonderfully up-tempo and Sweet Kinda' Something a peach with a sweet soul feel. Elsewhere haunting ballads – tales of love and love lost - are the order of the day. And as you might expect from a classics label, the playing production and supporting cast are top notch. Beulah's vocals are beautiful throughout.
As a package, Mabel And I seems to be aimed squarely at the Bridget Jones generation. And in many ways, it hits the mark. But for me, it's almost too 'grown up', too polished, too perfect. But that's a minor beef. As a whole it's a very satisfying debut and while it might not get your 'rocks off', if you're looking to have your temples soothed after a bad day at the office, Mabel and I could be just the ticket.
****
Review by Pete Whalley