BERNARD ALLISON Energized
2-CD Ruf Records RUF1113(2006)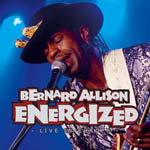 It is rare for a live album to be genuinely regarded as one of an artists best efforts, but in the case of 'Energized', guitarist Bernard Allison truly delivers his best ever effort.
Put simply, aside from some exhilarating playing by his road tested band, Bernard's live set is an aggregation of some of the best work of his career, with only an occasional pandering – via bass solo, call and response sequences, and instrumental vignettes – to his club land working environment.
Given that the corner stone of the Ruf record label was built around the late, inspirational Luther Allison (Bernard's father) this album is an effort Luther would surely have been proud of.
The two CD set is packed full of Bernard's deep toned guitar signatures, most notably on the self penned album highlight 'The Way Love Was Meant to Be', and the subtle promptings on Luther's anthem 'Bad Love'.
The band provides excellent support throughout with the exceptional drummer Andrew Thomas and bass man Jassen Wilber constructing a potent mixture of funky grooves, cool blues and sizzling shuffles to which Bernard adds some searing solo's.
If anything the set is a little over reliant on funky grooves, probably a consequence of Bernard's middling vocal range which comes close in timbre to the late Johnny 'Guitar' Watson on 'A Woman Named Trouble'. And after a stop-start career that has yet to project him into the major league, 'Energized' surely offers a clue as to Bernard's right to ascend the ranks in the footsteps of his father. Songs like 'Too Cool' – a co-write with Bruce McCabe is a very classy funk outing and sits comfortably juxtaposed with Luther's timeless blues, 'A Change Must Come'. But it is with the closing 'Don't Be Confused' - an emotive ode to his late dad - that Bernard delivers his tour de force. The climactic set closer is a piece of heartfelt blues peppered with some beautiful guitar and keyboard interplay over a peerless rhythm section.
This is a fine live album that confirms Bernard Allison's time has arrived.
****
Review by Pete Feenstra
The Way Love Was Meant To Be
© 2006 Ruf Records. All rights reserved.