BERNARD ALLISON 'Higher Power' Ruf 1101 (2004)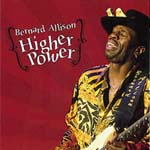 'Higher Power' is an apt title for a blues artist who has sought his own inner strength and musical inspiration from the influence of his late, great dad Luther Allison, and blues in general. However, as this album shows, Bernard is not Luther in a number of ways. On the plus side, Bernard is an assured guitarist, who searches for his tone in whatever direction his musical muse takes him. As a result this album explores Blues, and Funk, touches on soul, adds some powerful Rock riffs, as well as the occasional helping of R & B.
On the down side, Bernard is not a great song writer, and his thin vocals appear less confident when he steps outside of his preferred shuffles. But hell, name me a blues rocker who has a voice better than his guitar playing ability! But thereís a more important question here pertaining to the contemporary blues scene, and itís lack of a meaningful context. In short this is a dependable rather than inspirational album.
And while Bernard skips from genre to genre, thereís no denying that his working environment remains the blues and if not nothing else, the 7 self penned tracks pursue a sense of personal meaning, even if the songs donít always strike home.
The opening 'Iíve Learned My Lesson' for example is a lyrically strong but musically cluttered effort, that employs an annoying military style staccato drums pattern that is repeated on 'Next 2 U'. Dad Lutherís, 'Raggedy And Dirty' is the kind of funky groove that Bernard is more comfortable with, and the same applies to 'Woman Named Trouble'.
The self penned 'Too Cool' is closer to the mark giving BA the kind of range his voice is more suited to. He adds an impressively big toned solo on the outro.
For the rest the Chuck Berry style, Countrybilly feel of 'Time Flies By' impresses with its flighty tempo, and mellifluous guitar break, while the Bruce McCabe penned, chord heavy, and piano led 'Stakes Have Gone Up' has a Johnny Lang feel that reflects McCabeís employerís style. Curiously thereís none of Allisonís noted slide guitar, and while there are elements of Albert King in his soloing, ultimately he doesnít deliver the defining trademark style that would mark him out from his peers.
***
Review by Pete Feenstra
Woman Named Trouble
© 2004 Ruf Records. All rights reserved.