Songs from the woods...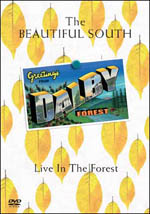 I was looking forward to this DVD. Earlier this year The Beautiful South sold out a series of outdoor gigs promoted by the Forestry Commission. It sounded idyllic – a leafy setting and The Beautiful South – a winning combination, you might well imagine.
As is often the case in life, reality never quite meets expectation. The setting (on the DVD at least) appears to resemble a football pitch surrounded by a few trees. Believe me, it looks nothing like a forest. But perhaps I expected too much. And the vast majority of the gig took place in daylight – which always fails to add to the ambience.
Worse still, the camera work is completely unimaginative compared to most music DVDs released these days. There are three basic shots – the band on stage (obviously), the audience from the stage, and the stage filmed from an audience viewpoint. I know The Beautiful South pride themselves on being 'down to earth' but it wouldn't have done any harm to throw a few more quid at the shooting and editing.
As for the musical content, well it's fine. Many of the hits are there – Dumb, A Little Time, Rotterdam, Perfect 10 to mention but a few. All in all you get 19 tracks plus a sound check number and a brief interview with Paul Heaton. Heaton himself, is in fine vocal form, and there's some excellent support from Dave Rotheray on guitar and the brass section of Tony Robinson, Kevin Brown and Gaz Birtles.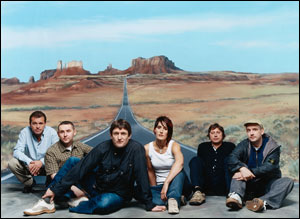 The Beautiful South © Scarlet Page
As for the others, Alison 'Lady' Wheeler just isn't as good as the departed Jacqueline Abbot (sorry, but it's a fact) , and Dave Hemingway's vocals sounded weak and off key on occasions. They certainly wouldn't have passed muster at an X Factor or Pop Idol audition.
Don't get me wrong, I love The Beautiful South and the audience seemed to get off on the gig. Maybe you just needed to be there.
***
Review by Pete Whalley