THE BEACH BOYS Sights and Sounds of Summer - The Very Best Of Capitol (2006)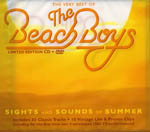 The music of The Beach Boys really needs no introduction. 100 million sales says it all, and if what you're into is not directly influenced, their influence on a generation affected the music scene around the world.
But yet another compilation? Well, if it's well packaged, and comes with a DVD of rare live, promotional and TV appearances, then it's a resounding YES.
The CD is a whopping 30 tracks of classic 'better than the Beatles' 60s pop, which makes for thoroughly enjoyable if whimsical listening at the very least. Even if it comes out for parties only, it's essential listening.
'California Girls', 'I Get Around', 'Surfin' USA', 'Sloop John B', 'Wouldn't It Be Nice', it's not until you play it you realise just how many easily recognisable memorable hits they had.
The DVD is more for the collector and enthusiast, but makes interesting viewing.
****
Review by Joe Geesin