BASILICA 'Sins Of The Flesh ' (BASMUS001) (2004)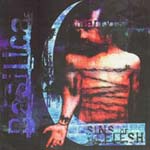 Variously described as goth, alt-rock and leftfield, when I first heard Basilica and their self-spun debut 'A Life Of Long Goodbyes', I was well impressed. Admittedly this had a smack of home studio production about it, but you could clearly hear that there was a lot of good stuff going on.
Well, the band have upped the ante a bit because 'Sins Of The Flesh' is a better production and Adelle Kirk's vocals are more up in the mix. If there is one criticism it's the sheer density of Paul Kirkpatrick's synth programming, there's so much going on it threatens to overwhelm proceedings. For some, this will be the charm, for others it will be the curse.
When the band shamelessly ape Madonna as on 'Juxtapose' something has gone drastically wrong and the promise offered up on that early demo album is in danger. I mean Madonna is brilliant, but she reflects trends, and this makes Basilica sound decidely deja-vu and last year's electronica.
This is a pity because overall there is so much promise, not least Kirkpatrick's vision and Kirk's adaptable vocals. (She recalls a younger Sam Brown). However, aside from the dense programming you long for a sustained distinctive melody, killer hook, and stable time signatures which the band are obviously capable of. What this album does offer is a vibe, that will no doubt improve on repeated play but it is quite overwhelming on first listen. Part of this complexity may be due to the album's "theme", the story of a female serial killer that unfolds in the songs and therefore offers up the slippery slope of concept prog.
It is the reflective, moody bits that show Basilica can really hack it. A classic example is 'Metamorphosis' which has an excellent main chorus and fine vocals before - predictably - those time signatures change and the keyboards come clunking back with a vengeance. The standout, though, may be the final track 'Crushed' which actually sacrifices ardent programming for an attractive tune.
Overall, this album is a brave and creditable undertaking, I mean it took Marillion umpteen albums before unleashing their own concept psycho thriller, 'Brave'. 'Sins Of The Flesh' is worthy of your own indulgence.
***
Review by David Randall

Crushed
© 2004 Basilica/Holier Than Thou Records. All rights reserved.