BADLY DRAWN BOY Born In The UK EMI (2006)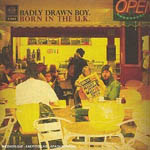 Badly Drawn Boy, Damien Gough's alter ego has not been a happy man. After winning the Mercury prize for his 2000 debut The Hour Of The Widerbeast he wasn't able to put a foot wrong - from the soundtrack About A Boy, to 2004's One Plus One Is One.
But with his move to a major label came added pressure and Badly Drawn Boy found himself ravaged by self-doubt. And after days, hours and weeks locked away in the recording studio with producer Stephen Street (The Smiths, Blur, Kaiser Chiefs) he decided there was only one way forward - to abandon the sessions and recordings.
Regrouping with his drummer and bass player he set himself the task of writing a song a day. And from September to December 2005 he did just that. Over the following six months at Rockfield Studios with Nick Fraglen those 60 to 80 songs gradually emerged as Born In The U.K.
I may not be the best person to review this album, because I couldn't name you a single song by Badly Drawn Boy. I've found his Fat Manc with Beard and an odd hat image strangely off-putting. So I'm not able to comment in the context of his previous output. But I was more than pleasantly surprised by the wonderful melodies and rich vocals.
Known for his obsessions of family, love and Springsteen, the album is like a kaleidoscope of childhood and lifetime memories nurtured with loving care. The album has a vaguely 1970s felt to it - Springsteen-esque piano parts and Bowie pop sensibilities and melodies that would grace a Bacharach songbook. But at the same time it's completely contemporary.
I'm not sure what I expected, but it wasn't an album as good as this - there are moment of sheer brilliance and beauty here.
****
Review by Pete Whalley
***** Out of this world | **** Pretty damn fine |
*** OK, approach with caution unless you are a fan |
** Instant bargain bin fodder | * Ugly. Just ugly
get ready to rock is a division of hotdigitsnewmedia group
Why should I buy this CD?
A beacon in the singer songwriter sea.
Burn baby burn
Born In The U.K, Nothings Gonna Change Your Mind, Promises, Walk You Home Tonight