BADFINGER 'Day After Day '
Rykodisc RCD10189 (2005)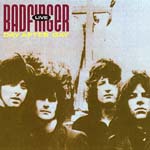 Badfinger were a great seventies band, riddled by tragedy and frustrated ambitions. This Ryko release features the band in 1974, arguably at the height of their success.
Of course, the story is well told of the band that signed to the Beatles' Apple label in 1968 and for whom Paul McCartney supplied their first hit 'Come And Get It' which made Top 5 in January 1970.
The Fab Four were, of course, more than bankrollers; Badfinger sounded like them. 'Sometimes' and 'Give It Up' are good examples, the latter from 1974's 'Badfinger' album.
The band specialised in three minute pop rock classics, but as this album demonstrates they were no slouches in a live situation and frequently expanded and jammed their material.
Trainspotters will note that their tune that Nilsson took to No.1, 'Without You', is absent from this set, but we do get to hear 'Day After Day' which gained Badfinger greater US recognition in 1971.
This album has been circulating in bootleg form for several years and fans will be pleased that this latest version is taken from the original master tapes.
****
Review by David Randall
Baby Blue
© 2005 Rykodisc. All rights reserved.