BAD COMPANY Live Albuquerque,NM,USA 1976
Angel Air SJPCD221 (2006)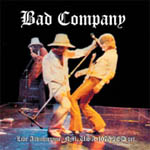 Free offshoot Bad Company took America by storm in the mid 70s, selling records by the truckload and breaking records on their tours.
This 2-CD live set comes from the vaults of Mick Ralphs as do the many archive photos, and with a 20 page booklet, so before we even start it's a top package that will have all Free and BC fans salivating. And rightly so because it's a great show, well recorded, and not much bones to pick over the setlist. Sadly the audience sound is a little quiet but the band sound is well recorded.
With the band on form, Rodgers shows himself to be one of the finest singers around. With 'Sweet Little Sister', 'Run With The Pack', 'Feel Like Making Love' and 'Can't Get Enough' it's a live album that'll please any rock fan.
****½
Review by Joe Geesin


£12.99
Ready for Love
© 2006 Angel Air Records. All rights reserved.