AXIA 'Axia' MTM Music (2004)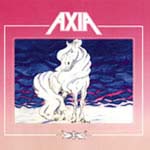 Axia belong to the category of the very talented bands that never managed to break through, for reasons that no rational human being can explain.
Axia is the brainchild of Peo Pettersson, the bandís vocalist. Formed in 1984, the Swedish quartet (at the time) recorded a four track EP after plenty of rehearsals in Peoís Warehouse/Studio. The EP made such a big impression on the Hard Rock circles that the Swedish branch of Polygram records decided to offer Axia a contract. Armed with plenty of confidence (and even more talent), the band entered the studio in 1986 and recorded their first studio album, which was simply called Axia.
Iíll get right to the point: Axia is a brilliant album with an average production. Itís not easy to describe Axiaís music and you wonít give them any credit by choosing to refer to them as just another Hard Rock band. The band is obviously influenced by giants such as Whitesnake and Deep Purple - just listen to the great Rock ní Roll tune of Fire, and Peoís beautiful melodic vocals in Never Ending Love and Iím pretty sure that youíll agree with me. One of the first songs I got hooked on was Loser, a song with great guitar work and excellent vocals for Peo, whoís more or less the driving force behind the band.
Increasing Action is probably the heaviest song of the album, and will remind you a lot of Heavenís Gate from the Future World era, with the only difference that the German power Metal outfit recorded this brilliant album many years after Axia - a thing definitely worth mentioning! There are no average songs on this fourteen track album, but I feel the need to choose Forced Into Darkness and Confession Of Love as my favourite two, with the latter being my CD playerís best friend for the last couple of days!
Things are very simple: If you like melodic Hard Rock, you need to buy this album. Once again I feel angry that bands like Axia never got what they deserved, but I also feel lucky to have discovered them.
****
Review by John Stefanis