AUDIOSLAVE Out Of Exile
Be Yourself (CD single) Interscope/Epic 9882468 (2005)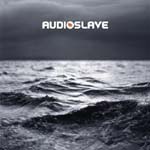 2005 may mark 'the return of the riff'. And if that's the case, the latest offering from Audioslave will be a standard torchbearer.
If Audioslave came out of the post-grunge generation, and the remnants of Soundgarden and Rage Against The Machine, there is a melodiousness in their approach that connects them to the best classic rock. This makes 'Out Of Exile' highly accessible and a true feast.
The opener 'Your Time Has Come' has a great riff from Tom Morello: Almost Free for the nu-metal generation. The title track has another great riff but a good chorus is never far away.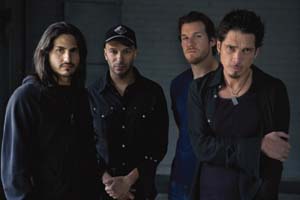 With lashings of Morello wah-wah, you are almost transported back to the power trios of the late-sixties, with 'The Worm' and 'Man Or Animal' good examples.
The first single 'Be Yourself' reminds a bit of U2 especially given its radio-friendliness and only lacks Edge's distinctive chimes. 'Yesterday To Tomorrow' slows the pace with a superb rumbling bass and is like Audioslave's take on Duran Duran's 'Come Undone' (I kid you not) but it works just fine.
Many might have written off Audioslave after their debut album in 2002 which for some lacked both the sonic bite of RATM or the retro rock stylings of Soundgarden. In truth, there isn't much to disappoint on this CD save perhaps for the slower 'Heaven's Dead' and the album does get better with each play.
Overall, 'Out of Exile' is just the job for a summer soundtrack; wind the windows down, head out for the open road and give new meaning to the term 'air guitar'.
****
Review by David Randall
Be Yourself
© 2005 Interscope/Epic. All rights reserved.