ATOMIC ROOSTER
Angel Air SJPCD188 (2005) (50:01)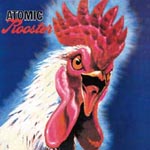 You wouldn't normally put money on prog legends mixing it up with the NWoBHM, but this 1980 reformation and EMI signing is a return to form and it did a pretty good job.
Founder Vincent Crane's keyboards are all over the show, yet the album's sound is more metallic than any of the progressive funk of the 70s.
Returning guitarist John Du Cann produces a searing sound that is at times also dark. Fast riffing from both organ and guitar sound like Deep Purple at their absolute heaviest, and opener They Took Control Of You is a fine example.
Do You Know Who's Looking For You? was a single and a highlight, Du Cann's hard and coarse vocals are suitably spooky.
First time on CD, it is well packaged with some bonus tracks. No excuses to overlook it this time round.
****
Review by Joe Geesin


£12.99
Don't Lose Your Mind
© 2005 Angel Air Records. All rights reserved.