ATLANTA RHYTHM SECTION
'Third Annual Pipe Dream/A Rock And Roll Alternative'
(Gott GOTTCD013)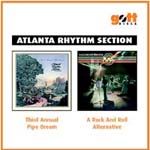 In the history of US southern rock, Atlanta Rhythm Section (who always had an unfortunate abbreviation) are often overlooked. They always had greater success in their homeland but here they were more likely to be consigned to the bargain bins.
Formed from the remnants of sixties band Classics IV who had two US chart hits with 'Spooky' and 'Traces' Atlanta Rhythm Section started off as a studio-based band in the early seventies. The two albums reissued here feature prime-time ARS. 'Third Annual Pipe Dream' (1974) displayed their gritty instrumentation and radio-friendly choruses, but it wasn't until 1976 and 'A Rock and Roll Alternative' that things moved up a notch.
By the late seventies they were easily able to hold court with their higher-ranking peers such as The Eagles, Fleetwood Mac and Foreigner with whom they toured. 'Sky High', 'Hitchhikers' Hero' and the glorious 'So Into You' display a new-found sense of purpose.
Of the two reissues, it's the later album that is stronger. As a package, however, this excellent retrospective goes some way to restoring ARS in our sense of rock and roll values.
****
Review by David Randall


So Into You
© 2004 Gott Discs. All rights reserved.