ASHLEY HUTCHINGS/The Albion Band
Talking Elephant(2005)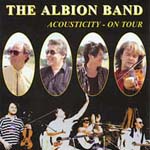 Britain's Radio 2 Folk Awards are staged, filmed and recorded each February in (aptly) a converted brewery in London. The event has become a must for the movers and shakers in the folk/roots community and stars - established and newly-minted - are up and down from their dinner tables like yo-yos, presenting and collecting the various category awards.
One such is Best Dance Band and it was only appropriate that this year's be handed out by the Guv'nor of the genre - Ashley Hutchings.
Hutchings has been a mainstay in British traditional music and its electrified offspring since the dawn of folk/rock in the late 60s and early 70s.
A prolific talent, he has made over 30 albums with the team at Talking Elephant alone, and now we have a further slew of releases over which to consider his contribution.
The first two mop up live recordings from the mid to late 90s: 'Acousticity' *** (TECD061)tracks performances from 1993 and 1994 in the UK, Denmark and Germany. The line-up constitutes Ashley, Simon Nicol, Chris While and Ashley Reed and essentially works the studio album of the same name (Ashley's favourite).
In common with the 'Albion Heart' *** (TECD069)release (which covers further live recordings by a revised line-up with Julie Matthews from the following year), the material crosses from interpretations of traditional material, covers of esteemed peers such as Richard Thompson, to self-penned work.
It all bears the hallmark of experience, as one would expect from musicians with these pedigrees.
'Great Grandson' *** (TECD062) is a bit of a wildcard, carrying on a tradition formed in the 70s when Ashley and other folk rock luminaries made 'Morris On' to bear the torch of traditional dance music forward.
He is joined here by Simon Nichol again as well as guests including John Spiers and Jon Boden to roll out 19 traditional pieces with enough toe-tappers to get you leaping abou the Square if that's your bag.
Of course, this isn't everyone's bag: but it will appeal to fans of the genre and Albion completists. And all three releases serve the Ashley Hutchings 'experience' well, so long may he play.
Review by Peter Muir
Albion Heart
© 2005 Talking Elephant. All rights reserved.