ARENA 'Pepper's Ghost' Verglas VGCD018 (2005)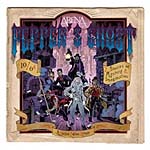 I first heard Arena via their excellent 'Contagion' album released in early 2003, one of that year's albums of the year. Since then I've been tracking down their back catalogue including the excellent 'Songs From The Lion's Cage'.
If you like quality progressive rock with plenty of keyboards and guitars then Arena should be top of your shopping list. For 'Pepper's Ghost' the band has adopted Victorian era superhero characters (a full lavishly illustrated story in available on the deluxe CD version of this album). This release also marks the band's 10th anniversary and there are some changes to the band's sound - more metallic guitar riffs for starters.
The two opening songs are amongst the album's best with 'Bedlam Fayre' allowing vocalist Rob Sowden full reign and some fine drums from founding member Mick Pointer. 'Smoke and Mirrors' lulls you in with a quiet guitar before the rest of the band kick in and by the chorus the harmony vocals kick in - glorious.
Listen out for the keyboard solos as well. 'Tantalus' holds no punches lyrically as it concerns insanity (Arena are very accomplished lyrically tackling real life issues as opposed to fantasy lyrics favoured by some bands).
The thirteen-minute closing track 'Opera Fanatica' would put pomp rock bands to shame with its operatic interludes and walls of keyboards - Clive Nolan has a field day on this track. The guitar/drums on this track are also the most metal edged the band have done.
Arena have done it again and produced a fine album full of musical delights and songs that never lose sight of melody. Come the end of 2005 it will up there in 'Album of the Year' polls with ease. Here's to the next ten years of Arena!
*****
Review by Jason Ritchie

Related>> Album review (Contagion)
Related>> 10 Questions (Clive Nolan)
Related>> 10 Questions (John Mitchell)
***** Out of this world | **** Pretty damn fine |
*** OK, approach with caution unless you are a fan |
** Instant bargain bin fodder | * Ugly. Just ugly