ANNA NALICK Wreck Of The Day Columbia (2004)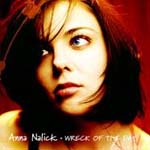 Anna Nalick, a 20-year-old Californian is one of a new breed of singer-songwriters. Raised in Glendora, California, just east of Pasadena Anna was fed a diet of Elvis and the Everly Brothers by her father, while her mother spun disks by the likes of the Rolling Stones, Cream, and Zeppelin. And the result is a refreshing change - a new singer-songwriter who doesnít sound like an Alanis or Avril clone.
Not for Anna the PMT fury although Paper Bag doesnít sound entirely unrelated to early Alanis output. If you want a comparison, Anna is much more in the mould of Tori Amos, Jewel (before she went MTV with 0304) and (whatever happened to?) Tasmin Archer.
So what weíre talking here is sophisticated piano/guitar based pop/rock. And damn fine to. The first single Breathe (2am) - acoustic, piano, Amos/Jewel delivery - a lovely song with some great hooks. It wonít be a hit here, but it would sound great on FM across the pond.
Citadel is another catchy song. And there are a number of peaches here - Satellite - a quite beautiful song with a punchy beat and a mesmerising delivery. Wreck Of The Day a gentle number with whispery vocals well up in the mix. The particularly beautiful Forever Love and rockers such as Bleed and Consider This.
And song-writing aside its little wonder itís such an impressive first outing. Production was in the hands of Christopher Thorn and Brad Smith (founding members of Blind Melon) and Eric Rosse, best known for his production work with Tori Amos and the all-star supporting cast includes Smith on bass, Thorn on guitar, Rosse and Zak Rae (Alanis Morissette, Macy Gray, Sinead O Connor) on keyboards, Lyle Workman (Frank Black, Sheryl Crow, They Might Be Giants) and Stuart Mathis (Jewel) on guitar, Joey Waronker (Beck, Johnny Cash, Elliott Smith, Nelly Furtado) and Matt Chamberlain (Tori Amos, Fiona Apple, David Bowie, John Mayer) on drums. You get the drift - these are serious players.
On the basis of Wreck of the Day, Anna has a bright future in the States. But Iím not convinced thereís sufficient discerning buyers in the UK to break here. Very definitely one to watch out for, though. ****
Review by Pete Whalley