ANGELZOOM 'Angelzoom'
(Nuclear Blast 2004)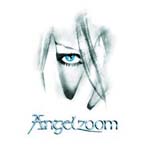 Many years ago, the music industry could have easily been compared with the annual weather forecast - there were certain periods during each year that you expected to have strong winds and heavy rain (many releases) and others when everything was peaceful and calm (no releases at all). Each period was marked by a unique climate (the type of music that was 'popular' at that time) and things were going according to schedule.
Well, thatís how things used to be! Then human intervention in the course of nature brought the Global Warming phenomenon - seasons no longer exist, and you find yourself unable to predict what the weather is going to be like in the next couple of hours (minutes, if you live in the UK).
Well, continuing my strange comparison, this Nuclear Blast promo that I received from a band called Angelzoom is like having 40 degrees temperature in the middle of winter!
I admit that I was never aware of a German Pop band called X-Perience, so the fact that the singer of that band is the main artist behind the Angelzoom project meant absolutely nothing.
My only knowledge of the band is that it is one of the most recent additions to the Nuclear Blast family - a label that also has in its roster bands like Anthrax, Agnostic Front and Hypocrisy. With a clear mind and not a single influence from my 'outside environment', I carefully pushed the play button!
Well, that was a surprise - I had no idea that Loreena McKennitt decided to work on another project, or thatís at least what I thought after I listened to the opening track of the album 'Turn the Sky'.
My first impressions: the song was based on the beautiful voice of the female vocalist that as I later found out was not the well-known 'Diva', but a very impressive artist called Claudia Uhle. The more I was listening to the rest of the album, the more I realised that the main instrument, on which all the songs are based is Claudiaís voice, which is mostly supported by well-composed keyboard/synth melodies.
The music of Angelzoom is influenced by many different styles of music, and that makes it difficult to describe. I guess that the term 'soundtrack' music is the most appropriate, because the feeling that you get while listening to this album is that it was created for the purpose of 'accompanying' a film.
I would not be surprised if I find out that it will generate the interest of people who listen to Tori Amos, Enya or Loreena McKennitt. I will definitely be surprised, though, if I find out that Angelzoom will be in the top selling ranks amongst the people who specifically purchase the Nuclear Blast releases.
This album has fifteen compositions, all of which are well composed and presented. I do have my own personal favourites, though, which are 'Back in the Moment', 'Guardian Angel'(by far the best composition of the album), 'Lights' and 'Christmas Dreams'.
I have read many reviews from people, which did not like the album and claimed to have been surprised by the decision of the Metal label to sign this band. You know whatís really funny though? When they did something 'similar' by signing Nightwish, no one cared, and remember: weíre talking about the labelís best selling band!
Now people have a problem with Angelzoom - why? Is it because they donít have any electric guitars in their music?
Anyway, I wonít even bother trying to understand how these people think. Claudia Uhle has one of the best voices that you will ever hear, and with Christmas approaching fast, Angelzoom is one of the best presents you can make to people who can appreciate good music. I highly recommend it!
****
Review by John Stefanis